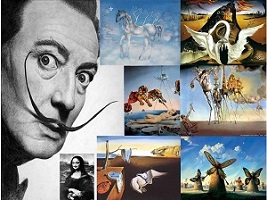 Salvador Dalí Jigsaw Puzzles
Painter, Sculptor, Graphic Designer, Scriptwriter and Writer



Salvador Domingo Felipe Jacinto Dalí i Domènech, known as Salvador Dalí, Marquis of Dalí de Púbol, is considered one of the main representatives of surrealism and one of the most famous painters of the 20th century. His favourite subjects are death, eroticism and putrefaction. He stages his works with perfect technical mastery and a taste for trompe l'oeil images. He has an extravagant imagination.

Birth : 11 May 1904 in Figueras, Spain.
Death : 23 January 1989 (at the age of 84) in Figueras, Spain.

Find on this page artworks of Dali in puzzles!