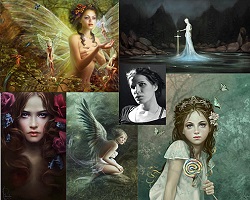 Mélanie Delon Jigsaw Puzzles
Illustrator



Mélanie Delon has always drawn since she was very young. She began by studying archaeology and quickly moved on to 3D studies. In 2005, she started using Photoshop. Her illustrations are often fantasy images, of women, which convey emotions and feelings. She uses a lot of light and chiaroscuro. Her works have a lot of details to discover.

Birth : 7 August 1980 in France.


Discover the illustrations of this artist on this page.