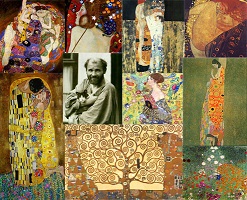 Gustav Klimt Jigsaw Puzzles
Symbolist Painter, Drawer, Designer, Ceramist, Lithographer



Gustav Klimt was one of the most prominent members of the "Art Nouveau" movement in Vienna. Klimt is a painter of figure compositions... He began his career as a designer, together with his brother Ernst and their friend Franz Matsch, until 1891. Klimt is known for his use of gold in paintings. In real contrast to the productions of his time, he caused many scandals and was even accused of pornography, as most of his paintings show women in lascivious positions. He left about 230 paintings.

Birth : 14 July 1862 in Baumgarten, Austria.
Death : 6 February 1918, (at the age of 56) in Vienna, Austria.

Discover the works of this famous artist in puzzles on our site!