Giving a puzzle means giving time, either alone time or time spent with loved ones – and away from any screens. It means giving your loved ones a moment of relaxation, of disconnection and reflection – while they assemble a photo you have chosen, piece by piece.

Birthdays, Valentine's Day, Easter, Mother's Day, Father's Day, Christmas... there are lots of occasions to spoil your loved ones. A photo puzzle is an ideal present! First you enjoy a walk down memory lane while going through beautiful photos: vacations, the birth of a child, a family occasion...

Choose the perfect puzzle size, depending on the recipient's age and experience with jigsaw puzzles: 12 XXL pieces, 24 XXL pieces, 48 XXL pieces, 104 pieces, 204 pieces, 300 pieces, 500 pieces, 1,000 pieces, 1,500 pieces or 2,000 pieces.

It only takes 2 minutes to upload your photo, choose the desired size and, if you'd like, a design box. We offer a number of different box designs to create perfect gifts for different occasions: boxes showing symbols of love, gift boxes, surprise boxes, colourful boxes, boxes for children, different seasons and, of course, for Christmas.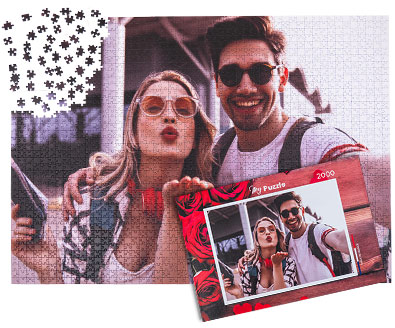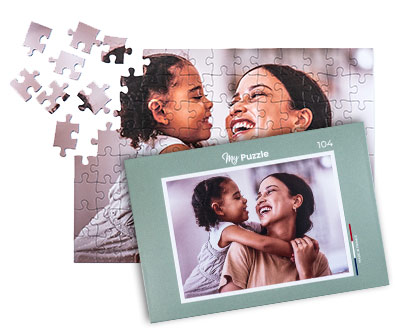 Our complete range of puzzle accessories helps every step of the way while assembling a puzzle: jigrolls, sorting trays, glues, etc. Once your jigsaw puzzle is assembled, you can glue and hang it up, in order to continue enjoying it.

Photo puzzles are a great gift idea for businesses, too, either for employees or customers. Memories of a seminar, a special project, a training, a team-building event... it's all about your business and employees!

Discover the know-how our teams bring to the table to create high quality gifts: premium cardboard, high-end printing, precise cutting tools. Assembling your puzzle will be a unique experience.

Our photo jigsaw puzzles are produced in Eastern France, close to the German border, in our own factory. Buying our puzzles means valuing our know-how and limiting your ecological footprint.