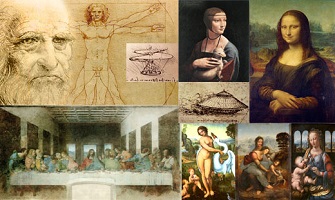 Leonardo da Vinci Jigsaw Puzzles
Painter, Sculptor, Inventor, Scientist, Philosopher, Poet...



Leonardo di ser Piero da Vinci, known as Leonardo da Vinci, was born in Tuscany. His father placed him as a apprentice in 1468 with the Florentine painter and sculptor Andrea del Verrocchio. He produced his first important works in Milan for Ludovico Sforza. He then travelled to Rome, Bologna and Venice. In 1515, the French King Francis I invited him to settle in France, where he spent the last years of his life at the Château du Clos Lucé. He can be defined as a genius in many fields.

Birth : 15 April 1452 in Vinci, Italy.
Death : 2 May 1519, (at the age of 67) in Amboise, France.

Discover the artworks of the Master in puzzles on our website.