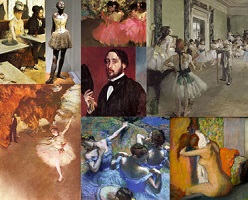 Edgar Degas Jigsaw Puzzles
Painter, Engraver, Sculptor



Hilaire Germain Edgar de Gas, known as Edgar Degas, came from an upper middle-class family. He studied law, then devoted himself to his true vocation by becoming a disciple of "Lamothe". He became friends with Manet. He tried to capture movement, in the manner of the nascent photography, he was only interested in interior paintings such as in the painting the Dancers. He left more than 2000 paintings.

Birth : 19 July 1834 in Paris, France.
Death : 27 September 1917 (at the age of 83) in Paris, France.

Discover the artworks of Degas on this page!