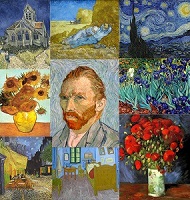 Vincent Van Gogh Jigsaw Puzzles
Painter, Drawer



Vincent Van Gogh was a Dutch painter and draughtsman. Although his works are among the most expensive in the world today, the artist had almost no success during his lifetime. He lived in tragic conditions: his relationship with his family was very strained, he was always short of money and dependent on social assistance, and he was often bedridden for days or weeks at a time with an illness that could never be identified, either before or after his death. Thus he spent the last year of his short life confined to a nursing home, where he could still paint.

Birth : 30 March 1853 in Groot-Zundert, The Netherlands.
Death : 29 July 1890 in Auvers-sur-Oise, France.

Find here the most beautiful paintings of Vincent Van Gogh in puzzle, from the 12 pieces puzzle for children, to the 5000 pieces puzzle for the most passionate!