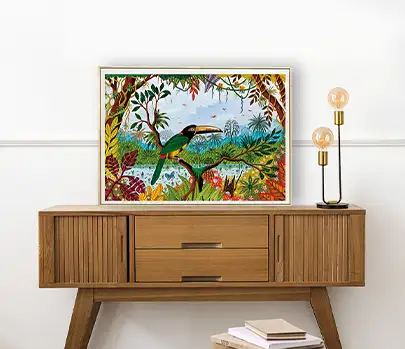 Pieces & Peace Jigsaw Puzzles


Discover a new brand of puzzles made in France: Pieces & Peace. Spend some time assembling, piece by piece, the images of talented artists. Discover their joyful and colourful illustrations, where nature is in the spotlight, and browse through the smallest details! Discover the beautiful puzzles of Laura Lhuillier, Alain Thomas, Hebe Studio, Sabina Fenn, Nolwenn Studio, Orane Sigal, Sara Boccaccini Meadows, Coralie Fau, Maja Tomljanovic, Miranda Sofroniou, Sarah Gesek Studio, etc.

Three sizes of puzzles are available in the collection: 1,000, 1,500 and 2,000 pieces.

The Pieces & Peace puzzles are a real favourite and a great gift to give yourself, for a pleasant moment of relaxation!

Contributing, showing solidarity, this is the deeply humanitarian vision of Pieces & Peace: for each puzzle sold, the brand donates 1 € to an organisation working for peace and the well-being of all mankind.