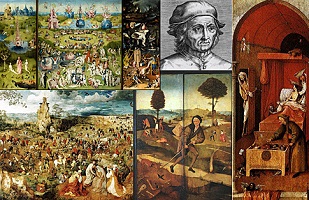 Hieronymus Bosch Jigsaw Puzzles
Painter



Hieronymus Bosch was a Dutch painter. His paintings, usually in oil on oak wood, mainly depict fantastic illustrations of religious subjects. During his lifetime, his works were collected and often copied in the Netherlands, Austria and Spain - his macabre and nightmarish depictions of hell were particularly popular. Little is known about Bosch's life. It is thought that he spent much of his life in the town where he was born, in his grandfather's house. His ancestors came from Nijmegen and Aachen. His fantastic and pessimistic style had a strong influence on the Northern European art of the 16th century, Pieter Brueghel the Elder being his most famous disciple. Today, Bosch is considered an extraordinarily individualistic painter with a deep understanding of people's desires and anxieties.

Birth : c.1450 in Bois-le-Duc, The Netherlands.
Death : 9 August 1516 (aged 65 or 66) in Bois-le-Duc, The Netherlands.

Discover the artworks of Hieronymus Bosch in puzzle on our website!