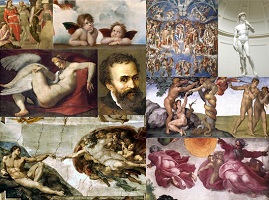 Michelangelo Jigsaw Puzzles
Painter, Sculptor, Architect and Poet



Michelangelo Buonarroti Simoni, known as Michelangelo. The first artist to be considered in his lifetime in the full dimension of his genius. He worked mainly in Florence and Rome, in the service of the papal curia. He was primarily a sculptor, more precisely a sculptor of marble statues. Michelangelo's paintings are few in number, as he devoted himself to religious frescoes. He reached the peak of his art between 1508 and 1512, when he undertook alone the colossal work represented by the frescoes on the vault of the Sistine Chapel.

Birth : 6 March 1475 in Caprese, Italy.
Death : 18 February 1564, (at the age of 89) in Rome, Italy.

Find the works of this Renaissance Master on this page!